07.21.11
NASA Briefing to Preview Upcoming Mission to Jupiter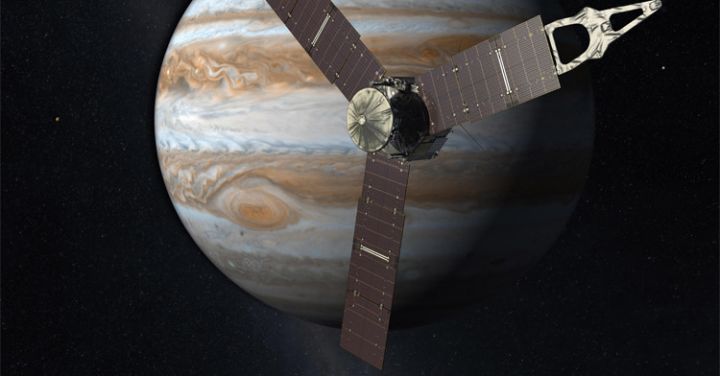 CAPE CANAVERAL, Fla. -- NASA will hold a news briefing at 1 p.m. EDT (10 a.m. PDT) on Wednesday, July 27, at the agency's Kennedy Space Center in Florida to discuss preparations for the upcoming Juno mission to Jupiter. The briefing will be carried live on NASA Television and the agency's website.
Juno, scheduled to launch Aug. 5, will improve our understanding of our solar system's beginnings by revealing the origin and evolution of Jupiter. Juno will get closer to Jupiter than any other spacecraft and will provide images and the first detailed glimpse of its poles.
Briefing participants are:
-- Jim Green, director, Planetary Science Division, Science Mission Directorate, NASA Headquarters, Washington
-- Scott Bolton, Juno principal investigator, Southwest Research Institute, San Antonio
-- Jan Chodas, Juno project manager, Jet Propulsion Laboratory, Pasadena, Calif.
-- Steve Levin, Juno project scientist, JPL
-- Kaelyn Badura, Pine Ridge High School, Deltona, Fla.; high school student, Juno Education program participant and Goldstone Apple Valley Radio Telescope Project participant
For NASA TV streaming video, downlink and schedule information, visit:
http://www.nasa.gov/juno
For more information about Juno, visit:
http://www.nasa.gov/juno
.
Ustream will carry the briefing live with a chat box available at:
http://www.ustream.tv/nasajpl2
JPL, a division of the California Institute of Technology in Pasadena, manages the Juno mission for NASA.