See the First Images NASA's Juno Took As It Sailed by Ganymede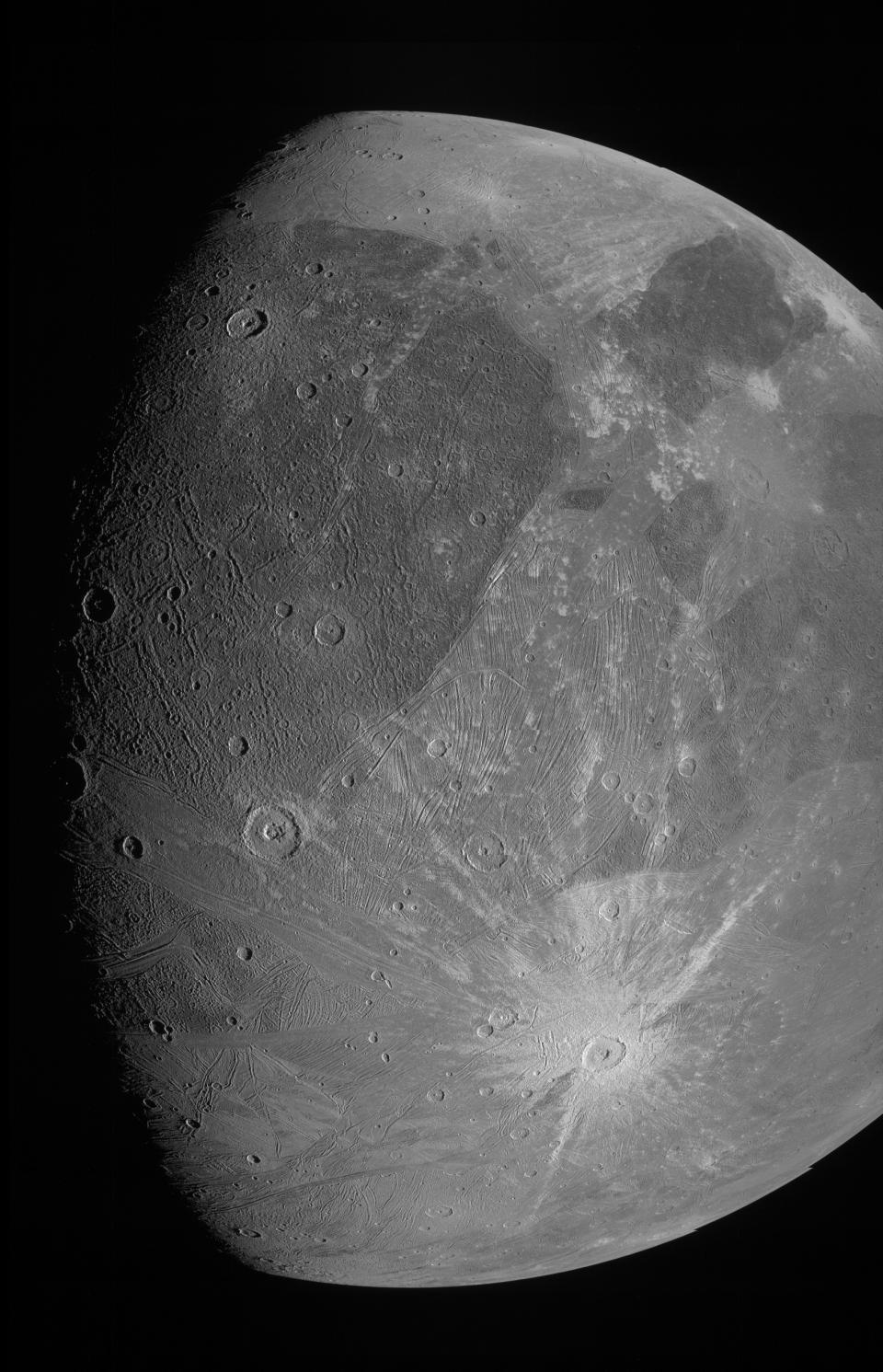 The spacecraft flew closer to Jupiter's largest moon than any other in more than two decades, offering dramatic glimpses of the icy orb.

The first two images from NASA Juno's June 7, 2021, flyby of Jupiter's giant moon Ganymede have been received on Earth. The photos – one from the Jupiter orbiter's JunoCam imager and the other from its Stellar Reference Unit star camera – show the surface in remarkable detail, including craters, clearly distinct dark and bright terrain, and long structural features possibly linked to tectonic faults.

"This is the closest any spacecraft has come to this mammoth moon in a generation," said Juno Principal Investigator Scott Bolton of the Southwest Research Institute in San Antonio. "We are going to take our time before we draw any scientific conclusions, but until then we can simply marvel at this celestial wonder – the only moon in our solar system bigger than the planet Mercury."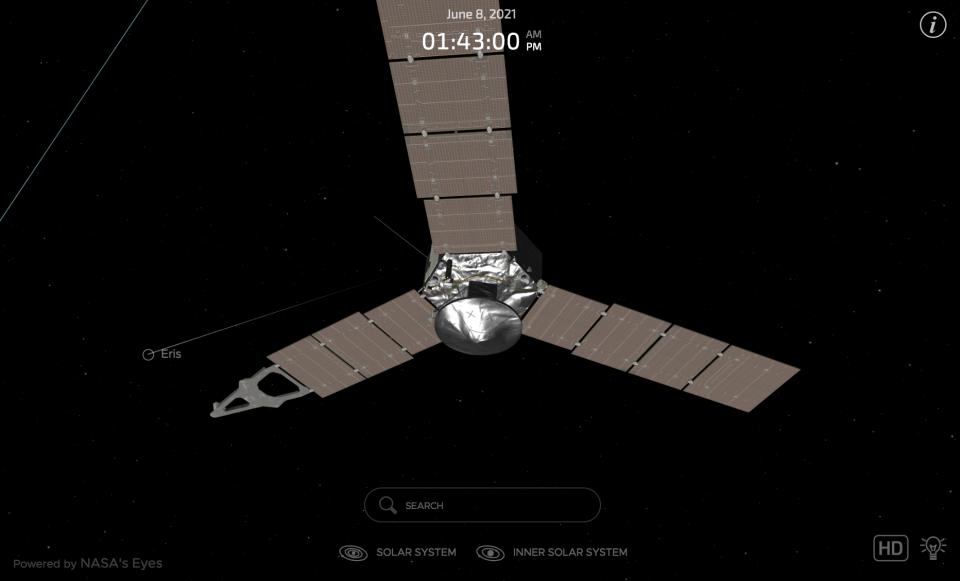 In addition, Juno's Stellar Reference Unit, a navigation camera that keeps the spacecraft on course, provided a black-and-white picture of Ganymede's dark side (the side opposite the Sun) bathed in dim light scattered off Jupiter. Image resolution is between 0.37 to 0.56 miles (600 to 900 meters) per pixel.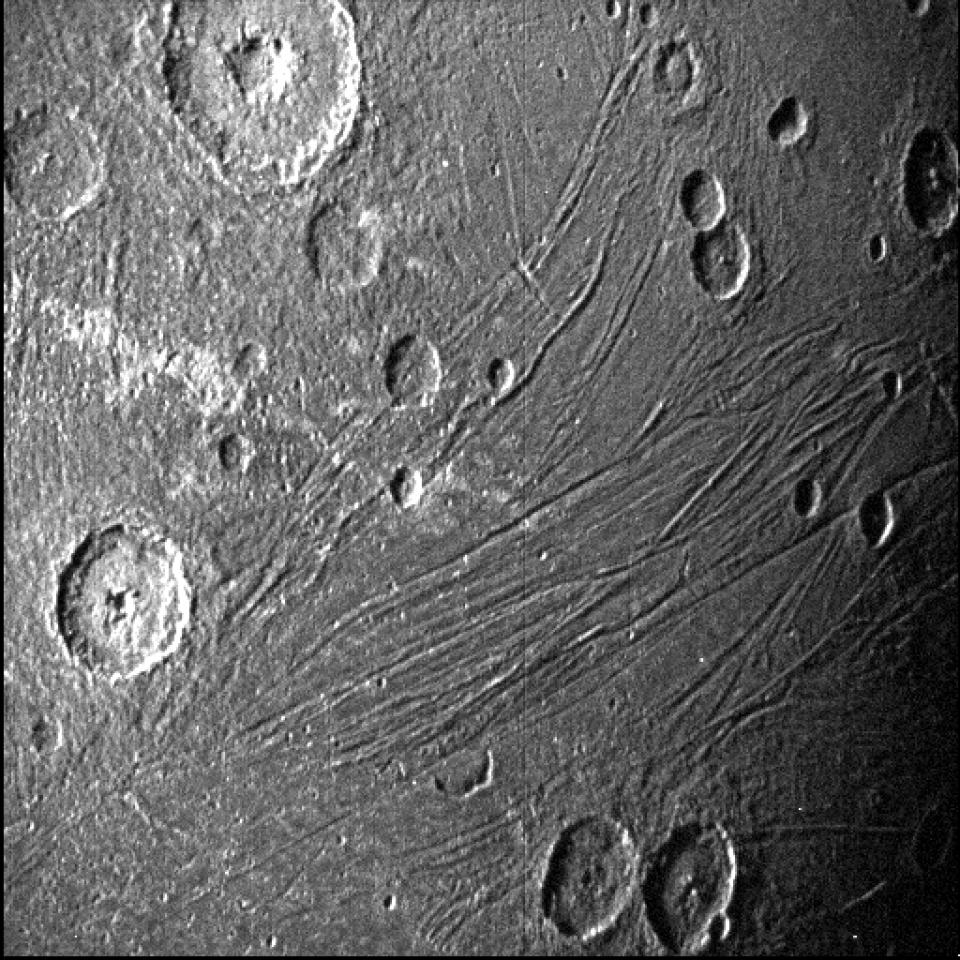 "The conditions in which we collected the dark side image of Ganymede were ideal for a low-light camera like our Stellar Reference Unit," said Heidi Becker, Juno's radiation monitoring lead at JPL. "So this is a different part of the surface than seen by JunoCam in direct sunlight. It will be fun to see what the two teams can piece together."
The spacecraft will send more images from its Ganymede flyby in the coming days, with JunoCam's raw images being made available
here
.
The solar-powered spacecraft's encounter with the Jovian moon is expected to yield insights into its composition, ionosphere, magnetosphere, and ice shell while also providing measurements of the radiation environment that will benefit future missions to the
Jovian system
.
More About the Mission
JPL, a division of Caltech in Pasadena, California, manages the Juno mission for the principal investigator, Scott J. Bolton, of the Southwest Research Institute in San Antonio. Juno is part of NASA's New Frontiers Program, which is managed at NASA's Marshall Space Flight Center in Huntsville, Alabama, for the agency's Science Mission Directorate in Washington. Lockheed Martin Space in Denver built and operates the spacecraft.
More information about Juno is available at:
https://www.nasa.gov/juno
https://www.missionjuno.swri.edu
Follow the mission on Facebook and Twitter at:
https://www.facebook.com/NASASolarSystem
https://www.twitter.com/NASASolarSystem
News Media Contacts
DC Agle
Jet Propulsion Laboratory, Pasadena, Calif.
818-393-9011
agle@jpl.nasa.gov
Karen Fox / Alana Johnson
NASA Headquarters, Washington
301-286-6284 / 202-358-1501
karen.c.fox@nasa.gov
/
alana.r.johnson@nasa.gov
Deb Schmid
Southwest Research Institute, San Antonio
210-522-2254
dschmid@swri.org