Juno Position & Status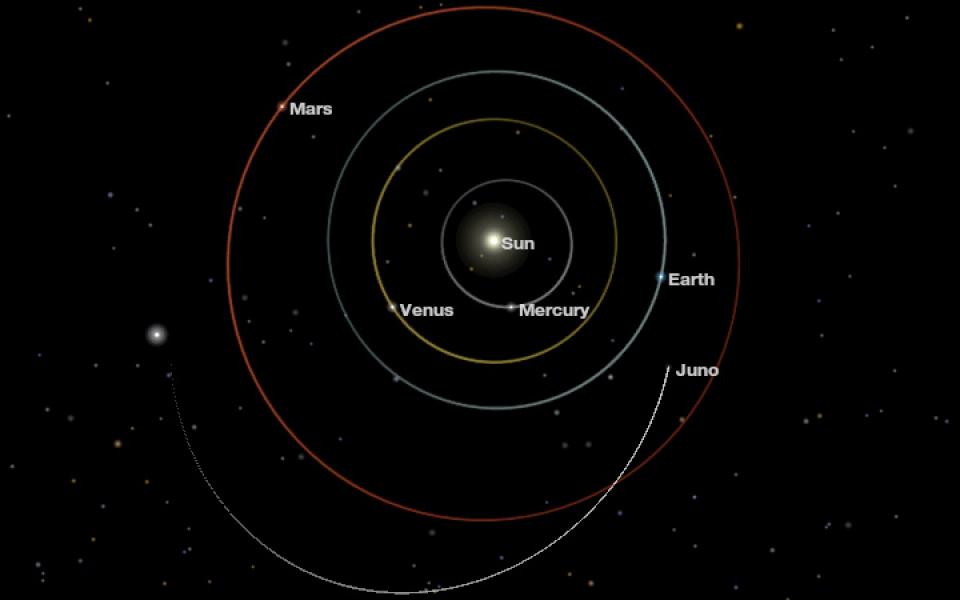 The Juno spacecraft is in excellent health and is operating nominally. As of May 29, Juno has entered the phase of its mission titled "Inner Cruise 3," in which it has switched from its high-data-rate High Gain Antenna to its suite of lower data rate antennas (beginning with the Medium Gain Antenna, or MGA). The magnetometer experiment remains powered on at low data rates, with all other science instruments currently powered off. Inner Cruise 3 lasts through Nov. 2013 and includes the Earth flyby.
As of June 7, Juno was approximately 50 million miles (80 million kilometers) from Earth. The one-way radio signal travel time between Earth and Juno is currently about 4.5 minutes. Juno is currently traveling at a velocity of about 18 miles (29 kilometers) per second relative to the sun, and increasing. Velocity relative to Earth is about 0.5 mile (0.8 kilometer) per second. Juno has now traveled 763 million miles (1.23 billion kilometers) since launch.
See Juno's current position, speed and more via NASA's Eyes on the Solar System 3D interactive.
Launch the Juno module
or view Juno in the standard
Eyes on the Solar System
interface.