02.14.14
JUNO POSITION & STATUS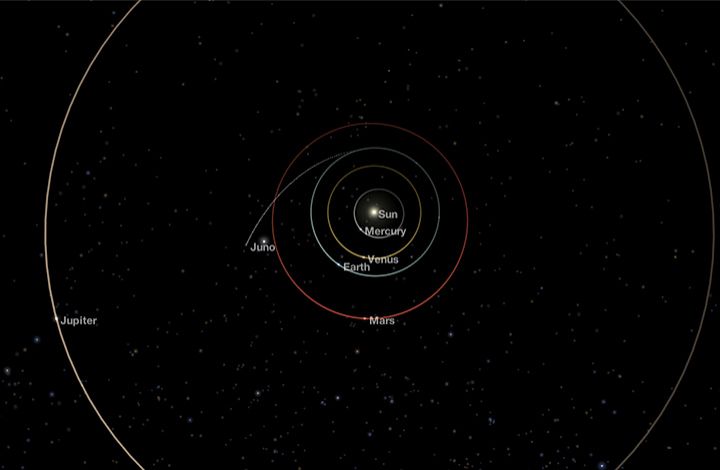 As of Feb. 14, Juno was approximately 134 million miles (215 million kilometers) from Earth. The one-way radio signal travel time between Earth and Juno is currently about 12 minutes. Juno is currently traveling at a velocity of about 15 miles (24 kilometers) per second relative to the sun. Velocity relative to Earth is about 22 miles (35 kilometers) per second. Juno has now traveled 1.21 billion miles (1.95 billion kilometers, or 13 AU) since launch.
The Juno spacecraft is in excellent health and is operating nominally.
Recent Spacecraft Significant Events

With the successful completion of high-voltage checkouts for the JADE instrument – one of Juno's particle detectors – all of Juno's nine instruments have now completed commissioning. Due to their detector's sensitivity to high temperatures near Earth's orbit (and operational limitations during the nominal commissioning period in 2011), the completion of the JADE instrument commissioning activities was scheduled after the Earth flyby. JADE proceeded with the checkouts in January as Juno moved farther from the sun and ambient temperatures became lower. The JADE team was extremely pleased with the quality and quantity of data obtained during the recent tests.
See Juno's current position, speed and more via NASA's Eyes on the Solar System 3D interactive.
Launch the Juno module
or view Juno in the standard
Eyes on the Solar System
interface. Additional information about the mission is available on
NASA's Juno mission pages
.
News media inquiries:
DC Agle
Jet Propulsion Laboratory
818-393-9011
agle@jpl.nasa.gov