MEDIA GALLERY :
Juno Approach Movie Media Gallery
jump to gallery selection
JUPITER APPROACH
NASA/JPL is excited to share the unprocessed images that comprise the approach movie acquired by JunoCam as the Juno spacecraft approached Jupiter.

Collection of the images began ~3 weeks before Juno fired its engines to slow down and be captured into orbit around Jupiter. One red/green/blue image was taken every 15 minutes. Over 1,300 still images were acquired over a ~17-day period, then put together very much in a flip book-like fashion to create the Juno Approach Movie.

Imaging from June 12 to June 29 allowed us to see Jupiter's moon Callisto make one complete orbit around Jupiter. The other 3 large moons (Io, Europa and Ganymede) make multiple orbits and can be seen entering and exiting Jupiter's shadow.

Below you will find links to view and download the movie, the individual still frames, and other useful information for the purpose of processing these images on your own. We hope that you will enjoy creating your own product!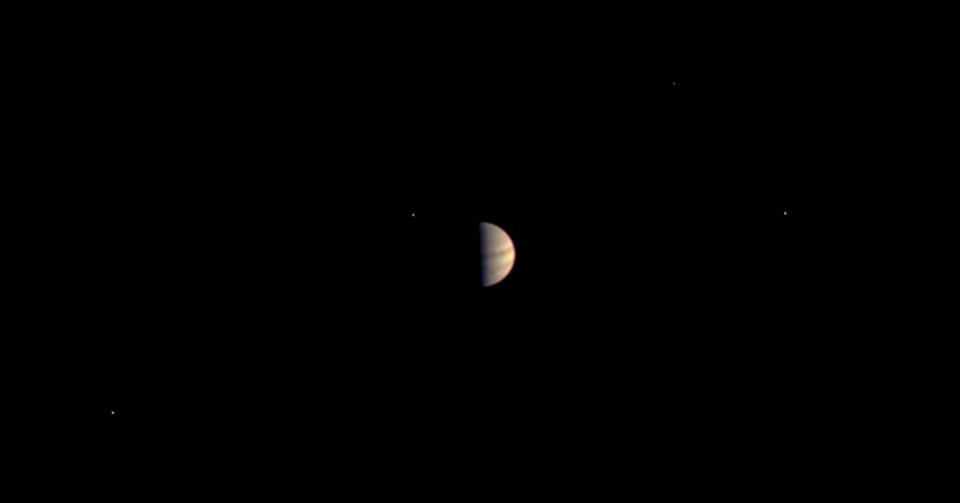 TECHNICAL IMAGE DESCRIPTION
Like previous Malin Space Science Systems (MSSS) cameras (e.g., Mars Reconnaissance Orbiter's Mars Color Imager) JunoCam is a "pushframe" imager. The detector has multiple filter strips, each with a different bandpass, bonded directly to its photoactive surface. Each strip extends the entire width of the detector, but only a fraction of its height; JunoCam's filter strips are 1600 pixels wide and about 155 rows high. The filter strips are scanned across the target by spacecraft rotation. At the nominal spin rate of 2 RPM, frames are acquired about every 400 milliseconds. JunoCam has four filters: three visible (red/green/blue) and a narrowband "methane" filter centered around 890 nm (not used for the approach movie).
For exposures longer than ~3.2 milliseconds, the spacecraft spin rate will cause more than a pixel's worth of image blurring. For the illumination conditions at Jupiter, such short exposures will result in unacceptably low Signal to Noise Ratio (SNR), so the camera provides Time-Delayed-Integration (TDI). TDI vertically shifts the image one row each 3.2 milliseconds over the course of the exposure, canceling the scene motion induced by rotation. While still maintaining the needed frame rate for frame-to-frame overlap, up to ~100 TDI steps can be used for image timing.
For further details, see the JunoCam Technical paper at:
http://link.springer.com/article/10.1007/s11214-014-0079-x
Three sets of image parameter settings were used as the spacecraft approached Jupiter. The first day, June 12, had a lower data volume than the subsequent days of the movie so images were not acquired as frequently. In the final set we reduced the TDI to avoid over-exposing Jupiter. All images were acquired in Jpeg compression. The movie was interrupted 3 times for other spacecraft activities.
The final three images feature the Great Red Spot (all images were acquired in lossless compression):
2016-06-29T20:25:00: First image, TDI of 1
2016-06-29T20:28:00: Second image, TDI of 2
2016-06-29T20:32:00: Third image, TDI of 1