Voting
Welcome!
Juno is in a 53-day orbit. When it passes close to Jupiter ("PeriJove" or "PJ") we will take as many pictures as we can. The number of pictures that we take is limited by the amount of onboard data storage that we have for JunoCam, so we have to be selective. The images are collected as we go from the north pole of Jupiter to the south pole, which happens in a brief 2 hour portion of the orbit. On any given perijove pass we will only be able to image targets in a narrow swath of territory the spacecraft flies over ("groundtrack").

Juno's orbit geometry is evolving so we will carry out campaigns rather than voting on specific targets. Campaigns are focused on a specific science theme and take advantage of the changes in lighting.
What happened to Voting?
Up through PJ8 everyone could vote on their favorite Point of Interest (POI) and those rounds can be viewed here. Changes in the orbit and mission plan mean that we are no longer selecting targets by vote.

There will still be a voting page for every orbit and we will describe the specifics of each perijove pass such as the spacecraft orientation. Because of the challenges to predict the Points of Interest that will be in the JunoCam field of view we are now timing the image collection by latitude and/or executing campaigns.
Target Selection
We will take polar images on every PJ pass to assemble timelapse sequences to study the dynamics of the circumpolar cyclones. Between the north and south pole images will be timed to get complete latitudinal coverage.

The rest of the resources will be used for campaigns. Options are to look for lightning, take multiple methane images to study high altitude hazes, study Jupiter's ring, take stereo pairs for cloud altitudes, image Galilean moons when available, etc. We will keep the Voting Round discussion for comments on what would be best. We are hoping that you enjoy being a part of this process, that you enjoy being a member of the JunoCam team.
Voting Round :
PJ49 Encounter
CLOSED :
2023-03-01 00:00:00
Perijove on : 2023-03-01 05:53 UT
About This Round
The camera has experienced an anomaly at power on starting with PJ46. We have decided to leave the camera on rather than powering it on and off. So, there will be many more images incoming and outgoing from Jupiter. This perijove pass includes a pass by Io at ~51,500 km inbound to Jupiter. The perijove pass itself will feature the usual contiguous latitudinal swath.
Perijove Predict Map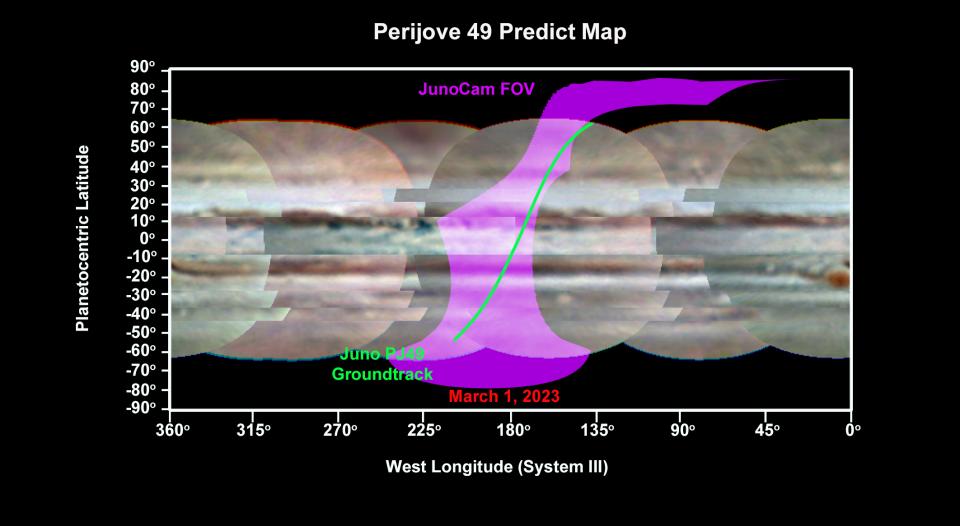 Winner Selection
The beginning of the perijove pass is signified by the minimum emission image of the north polar region. We no longer use the southern minimum emission angle image as the end point because it is occuring so many hours after perijove. Instead we use PJ+2hr as our "end" of the perijove swath.
Voting has closed for this round. Winners are still being selected by the Mission Juno Team. Please Check back soon!